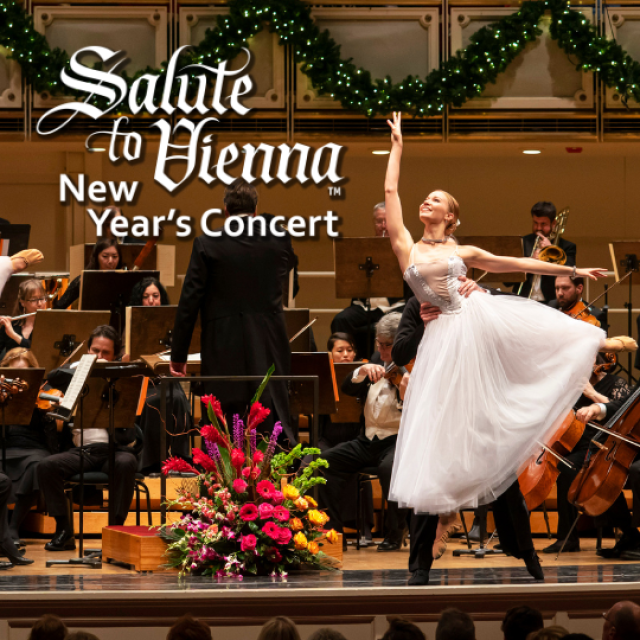 Attila Glatz Concert Productions
Salute to Vienna
New Year's Concert
Sun, Dec 31, 2023 @ 2:30P
Pricing
Tickets start at $43.50 (includes a $3.50 Facility Restoration Fee)
Children
All ages must have own ticket.
On Sale
Public on Sale begins Mon, October 16 @ 10:00A
Strauss Symphony of America
Featuring Members of the San Diego Symphony
Alastair Willis, conductor (London)
Angelika Brandner, soprano (Vienna)
Martin Piskorski, tenor (Vienna)
Featuring dancers from
San Diego Ballet
European singers, dancers, and full orchestra.
With timeless music, dazzling costumes, breathtaking dance, and stunning floral designs, Salute to Vienna New Year's Concert comes to the San Diego Civic Theatre for an unforgettable New Year's celebration that will enchant and delight audiences of all ages.
‌Freshly updated each year with a new cast and musical programme, the exuberant music of Johann Strauss and his counterparts will spring to life in a joyful spectacle. The Maestro, an expert in Viennese music, will lead the orchestra and the audience on a journey through the Golden Age of Vienna with wit, charm, and more than a few jokes along the way.
‌Energetic, lighthearted, and full of romance, the music of Salute to Vienna New Year's Concert goes down like a glass of Champagne. Ring in 2024 with this celebration of music, beauty, and human connection.
Presented by Attila Glatz Concert Productions. Artists subject to change without notice.