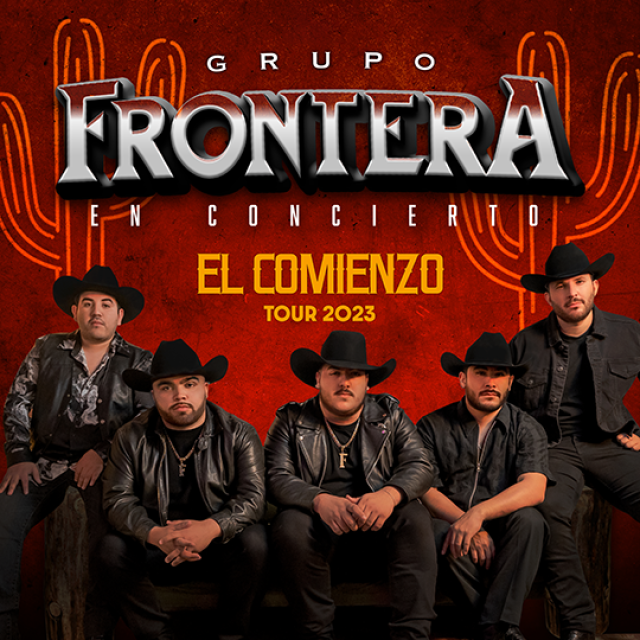 Amplify Limited
Grupo Frontera
El Comienzo Tour 2023
Fri, Jun 16, 2023 @ 8:00P
Masks
Masks are recommended but not required
Pricing
Tickets start at $63 (includes a $3.50 Facility Restoration Fee)
Run Time
2 hours, 30 minutes (including 15 minute intermission)
Children
All ages must have own ticket.
The Civic Theatre is set to host a night of pure musical excitement as Grupo Frontera brings their unique blend of Música Mexicana to San Diego on June 16, 2023. The band, which formed just one year ago, has already been seeing massive success with three songs on the Billboard 100, including the Fuerza Regida collaboration "Bebe Dame," the Carin Leon collaboration "Que Vuelvas," and the viral single "No Se Va."
Fans can expect to be dazzled by the electrifying energy of Grupo Frontera as they showcase their musical prowess on stage. Made up of Adelaido Solís, Julian Peña Jr., Alberto Acosta, Carlos Zamora, Carlos Guerrero, and Juan Javier Cantu, the band has been captivating audiences with their infectious rhythms and unmistakable sound.
Grupo Frontera has become a fan favorite on social media platforms such as TikTok and YouTube, with their hit single "No Se Va" amassing more than 255 million views on YouTube, while "Que Vuelvas" has 119 million. The band is showing no signs of stopping, with their latest release, the lovelorn track "Di Que Sí" with Marca Registrada, already receiving critical acclaim.