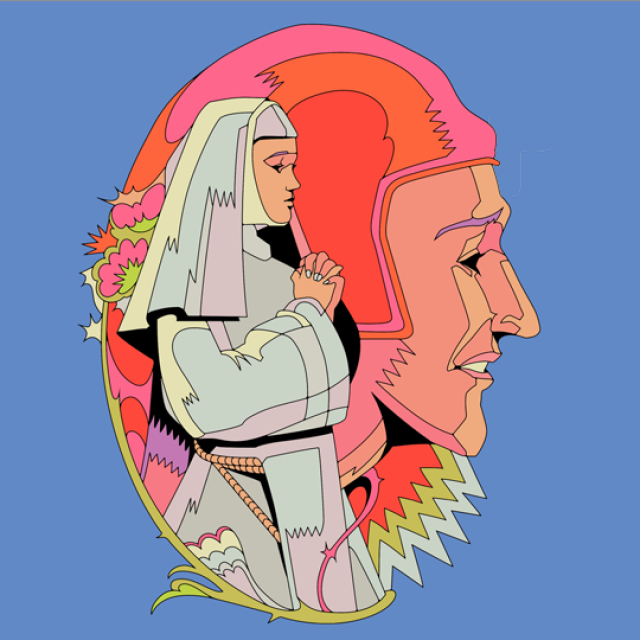 San Diego Opera
The Puccini Duo: Suor Angelica & Gianni Schicchi
By Giacomo Puccini
Feb 11, 14, 17 & 19, 2023
Vaccination
COVID safety protocols for the Opera's 2022-2023 season will be announced in fall 2022
Pricing
Tickets start at $42 (includes a $3.50 Facility Restoration Fee)
Run Time
1 hour, 55 minutes (including 20 minute intermission)
Children
Children older than 6 years of age are welcome. All ages must have own ticket.
On Sale
Single Tickets on Sale September 7, 2022
This evening, which we are calling The Puccini Duo, brings to life two great Puccini one-act operas. Suor Angelica tells the story of a woman (Marina Costa-Jackson) who bears a child out of wedlock and is sent to a convent for penance. After seven years, she is visited by her aunt, the Principessa, who brings tragic news of her son, which sets in motion a series of dire actions that ultimately result in tragedy, forgiveness, and peace. The comic-opera Gianni Schicchi begins with the death of wealthy Florentine Buoso Donati, and his distraught family who are upset about being forgotten in his will. So they enlist the help of fixer Gianni Schicchi who helps turn the tables, but not in the way they expect. Considered a comic masterpiece, this is a dark satire based on a real story mentioned in Dante's Inferno and includes the famous aria "O mio babbino caro." Making a welcome return for these performances is mezzo-soprano Stephanie Blythe, who will sing the role of the Principessa in Suor Angelica, and will take on the title role of Gianni Schicchi, a role traditionally sung by a baritone, for an opera first! Directed by Paul Curran and conducted by Yves Abel, San Diego Opera's Principal Conductor.
Sung in Italian with projected English translations.
PRE-OPERA LECTURE: The pre-opera lecture begins at 6:40pm before the start time of 7:30pm for evening performances. The Sunday matinee pre-opera lecture begins at 1:10pm before the 2:00pm curtain.
MAIN STAGE POST-OPERA TALK-BACKS: Stay after the performance for a Talk-Back. Once the curtain falls, there will be a 10-minute break, then join us back in the theatre in the Dress Circle where you can ask questions of the stars, cast, and find out what really happens onstage and backstage!