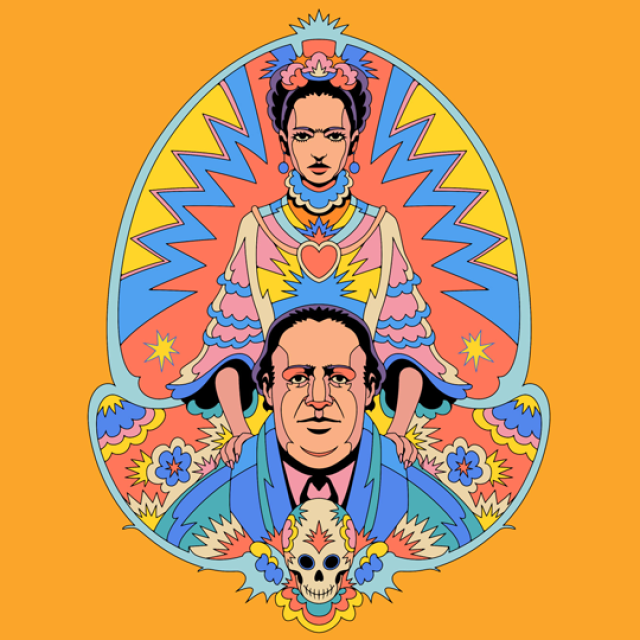 San Diego Opera
El último sueño de Frida y Diego
Oct 29, Nov 1, 4, 6, 2022
Vaccination
COVID safety protocols for the Opera's 2022-2023 season will be announced in fall 2022
Pricing
Tickets start at $42 (includes a $3.50 Facility Restoration Fee)
Run Time
Approximately 2 hours, 30 minutes (including 20 minute intermission)
Children
Children older than 6 years of age are welcome. All ages must have own ticket.
On Sale
Individual Tickets On Sale in September
The 2022-2023 season begins with great fanfare with the world premiere of El último sueño de Frida y Diego (The Last Dream of Frida and Diego) by Grammy Award-winning composer Gabriela Lena Frank and Pulitzer Prize-winning librettist Nilo Cruz. Frida Kahlo and Diego Rivera have inspired generations of artists and this new opera explores the relationship between these two great Mexican visionaries. During the celebration of Día de Muertos (Day of the Dead), surrounded by candles and the fragrance of marigolds, the great muralist Diego Rivera longs to see his deceased wife Frida Kahlo once more. Catrina, the keeper of the souls, approaches Frida in the afterlife, and explains that Diego desperately needs his beloved wife as the end of his life approaches. For only twenty-four hours, Frida and Diego will relive their tumultuous love through their paintings and embrace the passion they shared.
Featuring an international cast of stars including mezzo-soprano Guadalupe Paz as Frida, baritone Alfredo Daza as Diego, soprano Maria Katzarava as Catrina, and countertenor Key'mon Murrah as Leonardo. Directed by Lorena Maza and conducted by Roberto Kalb.
Sung in Spanish with English/Spanish text above the stage
This opera is a co-commission with San Francisco Opera, Fort Worth Opera, DePauw University School of Music, and with support from The University of Texas at Austin College of Fine Arts. Co-production with San Francisco Opera.
COVID SAFETY
COVID safety protocols for SDO's 2022-2023 season will be announced in fall 2022 and will evolve based on local transmission rates. Please visit the Opera's safety page for updates.
PRE-OPERA LECTURE: The pre-opera lecture begins at 6:40pm before the 7:30pm for evening performances. The Sunday matinee pre-opera lecture begins at 1:10pm before the 2:00pm curtain.
MAIN STAGE POST-OPERA TALK-BACKS: Stay after the performance for a Talk-Back. Once the curtain falls, there will be a 10-minute break, join us in the front of the Dress Circle section for a TALK-BACK with San Diego Opera insiders and cast members (subject to availability). Ask questions and find out what really happened during the performance.