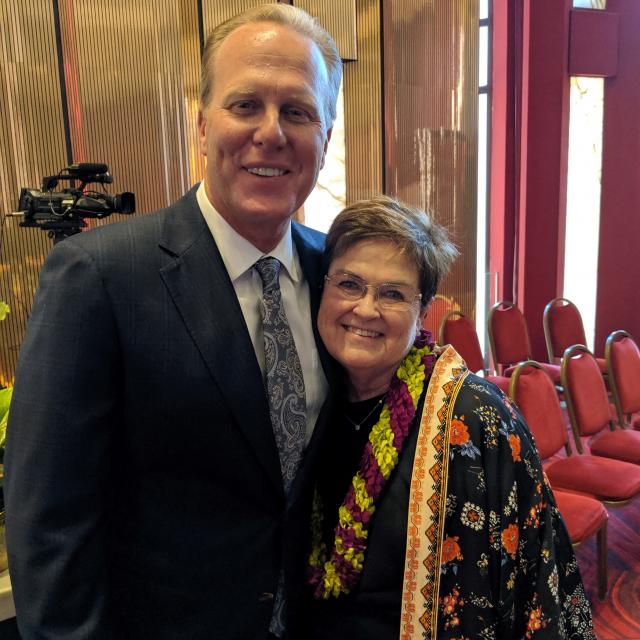 San Diego Theater Arts Icon Carolyn Satter Retires
Aug 21, 2019
After 41 years of creating theatre magic, Carolyn Satter has taken her final bow, retiring from her role as Director of Production at San Diego Theatres on August 21, 2019.
Satter was a trailblazer, beginning her tenure in the late 1970's at a time when only five women were production managers in the entire United States. Since, then, she has created memorable experiences for thousands of men, women and children, inspiring many to pursue their dreams of working in the field of theater arts.
At a celebration at San Diego's Civic Theatre, attended by 130 friends, peers, co-workers and family, San Diego Mayor Kevin Faulconer presented Satter with an official proclamation in her honor, declaring it "Carolyn Satter Day" in the City of San Diego.
"Carolyn Satter's unwavering dedication as Director of Production at San Diego Theatres has fostered the San Diego Civic Theatre and the historic Balboa Theatre as venues where great art happens, and has established San Diego as a place where artists look forward to returning," the Mayor said.
Satter was also honored with proclamations from California State Senator Toni Atkins and County Supervisor Nathan Fletcher.
"I can't imagine retiring from any other job that would have allowed me to have as much fun as I have had these past 41 years," Satter said. "How fortunate I have been to spend my professional career helping to create theatre magic for others."
Satter has left her mark in so many ways. She served on the leadership team that re-opened the historic Balboa Theatre in 2008 following its $26.5 million restoration. During her tenure with the Theatres, she has mentored and led the way for generations of Production Managers to succeed and thrive in the industry.
She's also part of one of the only mother-daughter production teams in San Diego. Her daughter, Paige Satter, is Director of Production for the San Diego Symphony.
"I have been blessed to watch this amazing woman make such an impact on our industry," her daughter said. "I have followed in her footsteps and as a result, live a life FULL of music, dance, opera, art, show tunes, and theatre magic while learning from the best."
Carolyn Satter graduated from SDSU with a Technical Theater degree and served as an instructor for 10 years in Event Management. She serves as Vice President of Commissions on the United States Institute for Theatre Technology, a membership organization aiming to advance the skills and knowledge of theatre, entertainment and performing arts professionals.
The new Director of Production is Pete Seaney who has served as the venues' Production Manager since 1985.