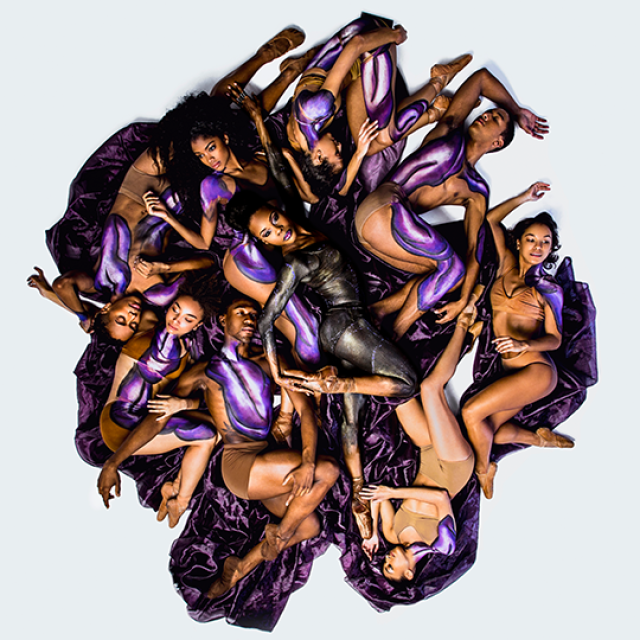 Jeremy McQueen in collaboration with San Diego Theatres
The Black Iris Project
Wed, Feb 8, 2023 @ 7:30P
Masks
Masks are recommended but not required
Pricing
Tickets start at $20 (includes a $3.50 Facility Restoration Fee)
Run Time
Approximately 2 hours, 30 minutes (including 20 minute intermission)
Children
Recommended for audiences ages 13+. All ages must have own ticket.
On Sale
Public on Sale begins Mon, Dec 5, 2022 @ 10:00A
Broadway veteran & San Diego native Jeremy McQueen brings his Emmy® award-winning New York City–based ballet collaborative to San Diego for the west coast premiere of two original ballets: WILD and A Mother's Rite.
WILD – Inspired by Maurice Sendak's Where the Wild Things Are, WILD follows a boy's journey celebrating his 14th birthday while detained at a juvenile detention facility, and explores the effects of isolation and imprisonment on childhood development. Frequently harnessing the power of his imagination, young Stefon transports himself to an alternate universe where he is not treated like a wild animal.
A MOTHER'S RITE – This forty-minute solo set to Igor Stravinsky's Rite of Spring explores one mother's journey through stages of grief after being thrust into the spotlight by way of her son's murder. A Mother's Rite is Inspired by countless Black mothers who have lost their children to police brutality and racially targeted violence.
The Black Iris Project's mission is to harness the Black community's inherent creative spirit to encourage and inspire youth of color to pursue art, movement and music as an expressive outlet and a means for collective healing. "Since its inception in 2016, The Black Iris Project has been committed to telling Black narratives through ballet, using art as a mirror to reflect the times and consistently intertwining themes of social justice in everything we do. As someone who has worked to break through many doors in the world of dance, particularly ballet, I feel it is our duty as artists to be a catalyst for those that are unheard, unseen, and undervalued. I am committed to, now more than ever, dismantling those barriers through my art." - Jeremy McQueen
Content Advisory: This performance contains strobe lights, haze, profanity, and scenes depicting physical and sexual violence.
Audience members are encouraged to wear all Black attire in honor of Black lives and Black History Month. 
For more information, visit www.blackirisproject.org. 
Sponsored in part by
Excerpt from the film adaptation of WILD, featuring dancer Elijah Lancaster.